St. Joseph's Chapel Organ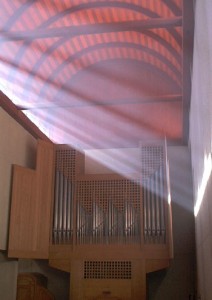 is a twelve-stop, two manual and pedal, mechanical-action instrument built by Herr Jurgen Ahrend of Loga-Leer, Germany. Herr Ahrend is one of the most renowned organ builders in the world by virtue of his work both in Europe and America. The organ is tuned to the just temperament dictated by the late seventeenth-century German master, Andreas Werckmeister. To the untrained ear the difference between this and the equal temperament is hardly noticeable, but by virtue of the traditional tuning, the instrument is especially suitable for hearing the range of great liturgical music of the mediaeval and early modern periods as it was heard then.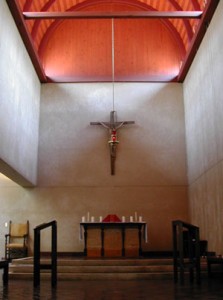 St. Joseph's Chapel is a barrel-vaulted church (a church with a quire and sanctuary without the nave commonly found in a parish church) is fifty feet long less than twenty feet wide and thirty feet high. Its verticality gives to the chapel the feeling of a church of the Early Christian epoch; the sensation is further heightened by soft lighting provided by a row of high clerestory windows on each side of the main body and skylights over the north-eastern transept and the south-western aisle. The bema (or tribune) and its altar dominate the chapel.